8th Mountain Ranch differs from many other equestrian organizations because most of our herd have been rescued from abuse or neglect. These extraordinary horses have their own stories of triumph and hope. They are paired with one leader and one child for every 90-minute riding session,
While not designed as a therapeutic riding program, our sessions are able to be adapted to meet the individual needs of each child. Often our recovering equine "chooses" a child with a similar story of brokenness. It is always extraordinary to witness the keen sense these profound animals posses to discern the needs of a human. They instinctively seek to comfort and effortlessly inspire children of all ages to press on and press through to victory.
Through hands-on experience, kids are taught the values of honor, hope, leadership, family, trust, and faith. By pairing the child with one of our equine mentors, we work hard to provide an opportunity for the child to grow in their confidence, to practice leadership and/or other life skills, and ultimately to experience unconditional love. Instead of being lost in a group, every child is nurtured by a leader who shares in his or her individual challenges and victories. Each ranch mentor cares deeply and desires to provide a positive experience to launch every participant into a new beginning.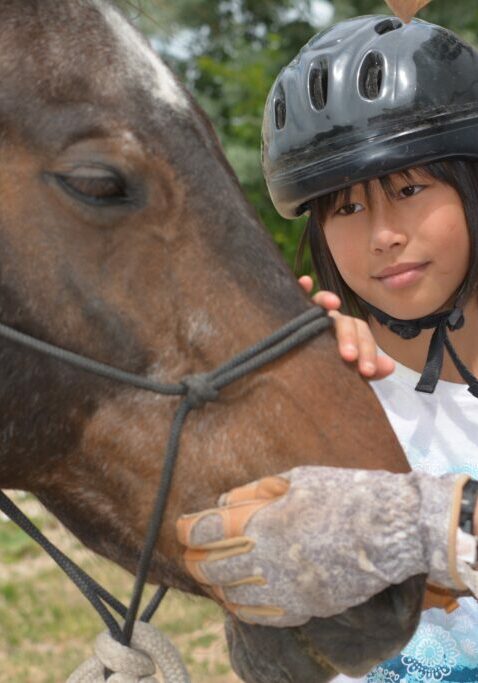 OUR HEART
The heart of our Session Program is to provide a safe place for children, horses, and families to experience hope, healing and encouragement. No one is defined by their past at "The Ranch of New Beginnings." In each session the partnership between child and horse or child and mentor purposes to release the wounded heart into a fresh encounter with love.
This is accomplished by inviting children to come just as they are. The leaders here work hard to pair kids with an activity or horse that will encourage them forward toward personal growth. We celebrate when a child discovers something new about who they are, a valuable uniqueness in their design, or an undeniable taste of love and joy!
PARTICIPANT REQUIREMENTS
Our sessions include spending time with or riding a horse as well as a variety of non-equestrian experiences including gardening, wood shop, games, art/crafts, cooking, and chores. All activities are weather dependent and are chosen at the discretion of the session leader. Because we have activities that can be done inside, we do not cancel sessions due to weather.
Also note that closed toed shoes are required in order to ride a horse (Crocs are not acceptable). Other items we recommend for your child to bring for his or her session include long pants, sunscreen, water, layers of warmer clothing, and a snack. We also require that a parent or legal guardian remain on-site during his or her child's session.