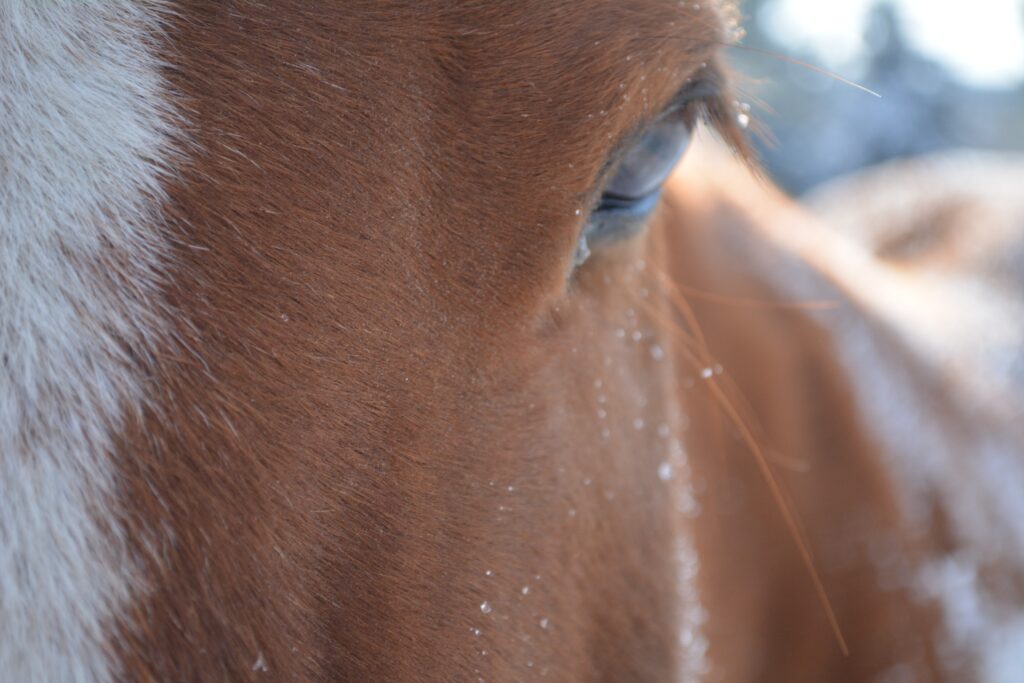 Healing Encounter
It has been said, "God made the horse from the breath of the wind, the beauty of the earth, and the essence of an angel."
Horses and humans have traveled together since the dawn of time, and have been an integral part of the kingdom of heaven since before time began. These elegant creatures carry a deeper, more ancient essence than any other animal. As one plows through the mountains of documented research on horse stories and journeys that result in human transformations, you will continually see profound exclamations about their love, trust, honesty, humor, courage, long-suffering, forbearance, kindness, faithfulness, patience, joy, peace, gentleness, wisdom and healing gifts.
This majestic essence has been honored throughout time and identified in every culture where they are present. It is labeled differently by each cultural expression and "spiritual context" but the bottom line is always a reflection of the "Divine Nature." In fact, in the Bible this same list of attributes shows up repeatedly as the "fruits of the spirit."
A miracle that we can't understand happens when a human opens their heart and cultivates a bond with a horse.  The Scriptures declare that "our eyes are the window to our soul," and this is true with the horse as well. When an eye-to-eye or heart-to-heart connection is made here, there is an immediate highway of emotion exchanged and sophisticated communication occurs. When this connection of mutual acceptance occurs between the two parties, one's heart becomes full and the physical boundaries between species begin to fade away. Here, both parties can be healed and transformed. This is why the field is called "Horse Therapy."
This is exactly how the Creator develops relationship with His human children through the power of the Holy Spirit connecting with our human spirit. Horses are not God, nor are they divine. But the horse is unique among all of God's creatures because they have been designed by the Creator to bring a 3-dimensional experience of what the Father offers those that come to Him. It is pure. It is rich. It is authentic, it is life-giving. It brings great deposits of heaven into the earth. We are created in the same way, just wrapped in a different covering, which is why the human-horse relationship is so magnetic.
This upcoming summer, sessions for 8th Mtn. will host children who've experienced severe trauma in their homes of origin, or have been rescued off the streets.  Hopefully we can build ongoing partnerships with these new organizations and their foster families to provide a positive, life-giving experience as these young courageous souls continue their journey to wholeness.  We have great confidence that God's love will impact them in unique and life changing ways as they interact with our equines, who have their own dramatic stories of overcoming great obstacles.
Thank you for partnering with us to provide the opportunity for these beautiful hearts to come, unite and receive freely!  It's your partnership that insures our ability to intercept them on their journey with the tangible love of Christ.
---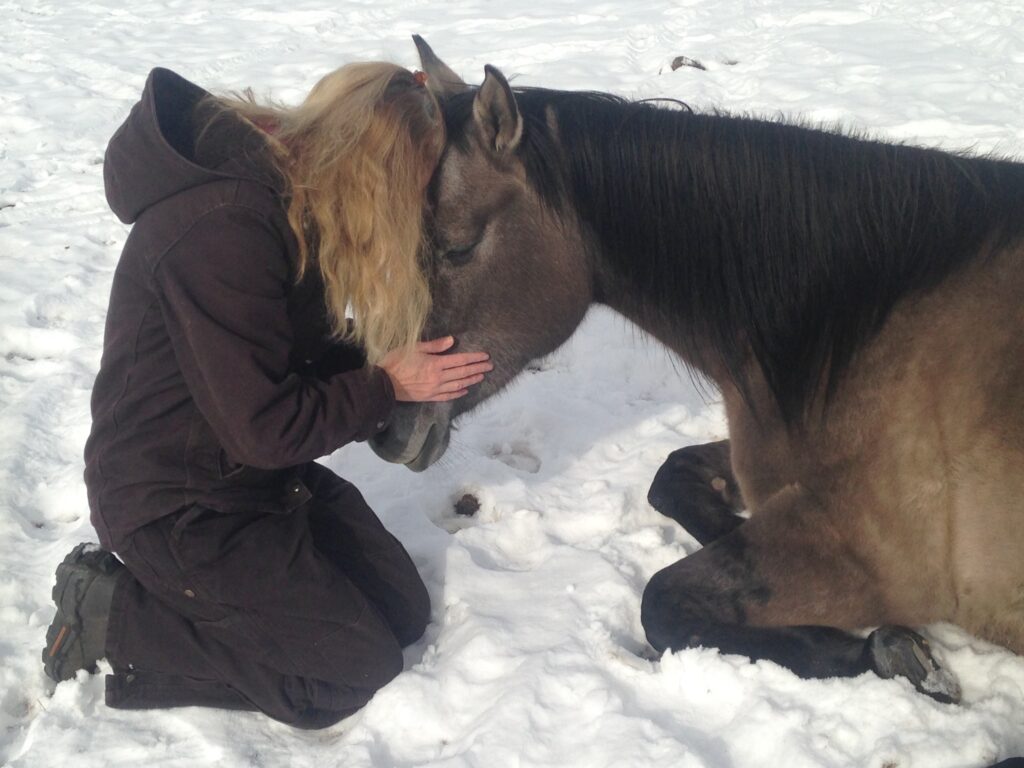 My Heart Sings
"Lord! I'm bursting with joy over what you've done for me! My lips are full of perpetual praise. I'm boasting of you and all your works so let all who are discouraged take heart. Join me everyone! Let's praise the Lord together.  Let's make Him famous. Let's make His name glorious to all." Psalm 34:1-3
Last year, as we watched amazed, God faithfully provided a round pen for us to begin our therapy training.  I am so thankful for His continual provision!  As we are expanding to host more children and more varieties of activities for the equine sessions, installing a formal arena has become a critical necessity. This would offer a safe enclosure to conduct 2-3 sessions simultaneously and allow us to go to the next level in training our horses for their advancing skills with the children.
Apparently our heart's cry was heard by heaven and angels were dispatched to arrange an elaborate series of odd, divine interactions. One afternoon a local arena specialist stood in our front yard, spontaneously sharing a beautiful testimony of a horse-mediated healing process of his beloved family member. When we shared how our love of Jesus brought us into this ministry to accomplish this for others, he immediately lit up like a Christmas tree. As a marketplace missionary, he shared his personal intentions to impact people's lives with God's love, any way He could. At the conclusion of our meeting, he shocked us with his "gift" of the installation of a beautiful arena. As tears trickled down his humble face he said, "If my work could somehow help impact the life of a hurting and broken child, then there is nothing more important to me. It would make my heart sing." 
Please praise God with us for the heart of this gracious servant who is able to offer his expertise and equipment to install a sound, safe surface for equestrian activities at his cost.
---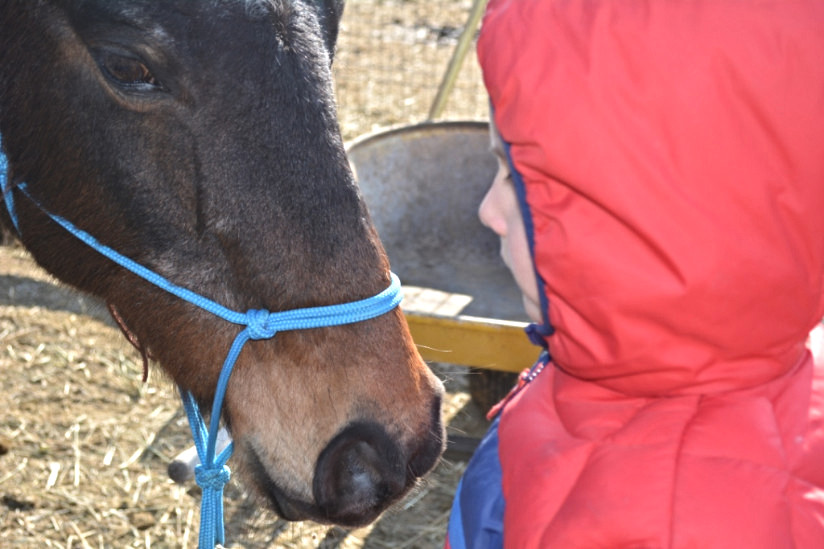 Our Youngest Intercessor
It was seventeen degrees. Earth, snow, and sky converged into a milky emissary, whispering a timeless message of hushed peace. In the distance, the grandeur of the Rocky Mountains sparkled like a beautiful etching.  The glistening white of the clinging snow against the stark blackness of the Rockies created a striking visual impression.  It looked as if a painter had intentionally added brush strokes to accentuate the contrast.  Although brilliant in its shafts of gold and amber, the mid-morning sun did little to warm the arctic atmosphere as it yawned and slowly stretched itself across the snowy meadows. "Ranch work never takes a break," the bitter January wind whispered as it nipped at our cheeks and ears. We bustled around vetting infected feet, spreading feed and hacking away at the mounds of petrified manure. As we worked, our four wooly horses assembled themselves around us, offering their presence and friendship. A warmth crept into our space shared by the lacy ice crystals of hot breath. My eyes soaked in the gold, cream, bronze, amber, and rust colors that sparkled as the sunlight rose, moving across the horses' fattened bodies. I became present only to these companions.I stopped my shoveling and, instead, chose to offer comfort, my presence connecting as deeply as possible with theirs. I raised my hands from my sides and with palms face down, moved one to Sky's spine just below his mane at his withers and the other above his lower spine. I felt the connection flow between us. My heart became full and the physical boundaries between us began to melt away. He exhaled a long shallow breath, dropped his head, licking and chewing in contentment. A Kairos moment opened in the spirit as the shared intimacy sank deeply into our beings. We knew we had received a gift. A hug of delight from heaven, a kiss of His pleasure and joy. One that continues to bring awe and wonder.
A car approached slowly up the driveway pulling our attentions to the unexpected gift that it held. From the back seat tumbled 6 year-old Evan submerged in snow regalia. We chuckled in amusement as he bounded through the snowy obstacle course advancing with barely contained enthusiasm toward our four furry friends.  His eyes sparkled as he surveyed our treasure trove, giddy with anticipation.
My thoughts retraced what little I knew of this small tyke's journey who, in his 6 short years, had already tasted the bitter injustice of this world and evil's sting. Like Moses, Evan was forced to struggle against the culture of his home which was filled with violence and hostility.  In the atmosphere of drugs and alcohol, God had miraculously sheltered his young heart and set in motion a plan for his escape.  He was rescued for a short time, enough to be infused with truth and acceptance, and fortified in authentic love, but then abruptly returned to his toxic parents.
A few years later, Evan and his siblings were again rescued and placed back into a foster home. It was here in this safe place that he confessed his dream "to be a cowboy." During a casual breakfast conversation, his new father shared about our desire to start 8th Mt. Ranch. With the spontaneous eagerness that comes so naturally to a child, Evan blurted out a simple prayer, "Jesus, will you give these people their ranch so that I can ride their horses?"  Little did he know that, as our youngest intercessor, his childlike prayer would surely impact our lives.
On this frosty afternoon, Even apparently had an appointment with our oldest horse Sky who voluntarily approached this innocent ball of energy, with head lowered and nose extended, blowing soft puffs of warm air onto his face. After introductions, we set about grooming and haltering and learning to leading Sky to assess how responsive he would be to Evan's leadership. As is common with these encounters, it was an instant partnership as they rubbed noses and exchanged hearts full of emotion like shared cups of steaming hot chocolate on a snowy hillside. As if they'd known each other forever, Sky lowered his head so that his eyes were the same height as Evan's and the two walked like long lost friends around the pasture.
"Do horses see in color?" he asked.
"Well, scientists think they only see black and white, but I believe they see color with the eyes of their heart."
"I think he really likes green."
"Why do think that?"
"Because I have green eyes and he really likes me!" With the magic that only a horse can produce, our senior horse imparted the authentic sense of acceptance and trust that Evan desperately needs.
"Do you remember praying for us that we would be able to start the ranch?"
"Yep!" the six year old confirmed.
"Do you think Jesus hears you?"
"Yep!" he resolves again.  I love the simplicity of childlike faith.  It reminds me of the truth in James.  "But if any of you lacks wisdom, let him ask of God, who gives to all generously and without reproach, and it will be given to him. But he must ask in faith without any doubting, for the one who doubts is like the surf of the sea, driven and tossed by the wind." In the heart of a child, if God said it, well then they believe it. Evan just asked.  He didn't examine if he should or shouldn't, he just boldly approached his daddy in heaven and asked him to provide for the desire in his heart.  After all, He put it there.
"Why did you want us to get the ranch?" I probed.
"Because I want to learn to ride a horse so that when I grow up and become a cowboy, I'll know how to ride." With the confidence of a seasoned cowboy, he slid up on Sky's furry back, sunk his little fists into Sky's coarse mane and paraded an exhibition of joy and giggles that is impossible to describe. It could only be inhaled, savored, and recorded in our book of secret treasures.  His very first ride! What an honor to provide! And along the way, 8th Mtn. received a huge deposit of faith from this little lad. As we marinated in this beautiful exchange, our heavenly Father rode along his side and said, "It is good!"
Inside this little man there is a thundering passion for God's people to run with horses, to ride in strength and power through adversity and over obstacles. Evan doesn't even know his spirit is resounding with this prophetic utterance, but he is right on time and in time for what the Father is pouring out of heaven. As we partner with this family, we hope to release little Evan into the large territory of his call.  To set the captives free will require him to run with horses.  At six, that is called "Being a Cowboy!"  Oh how I love the sound of it!
---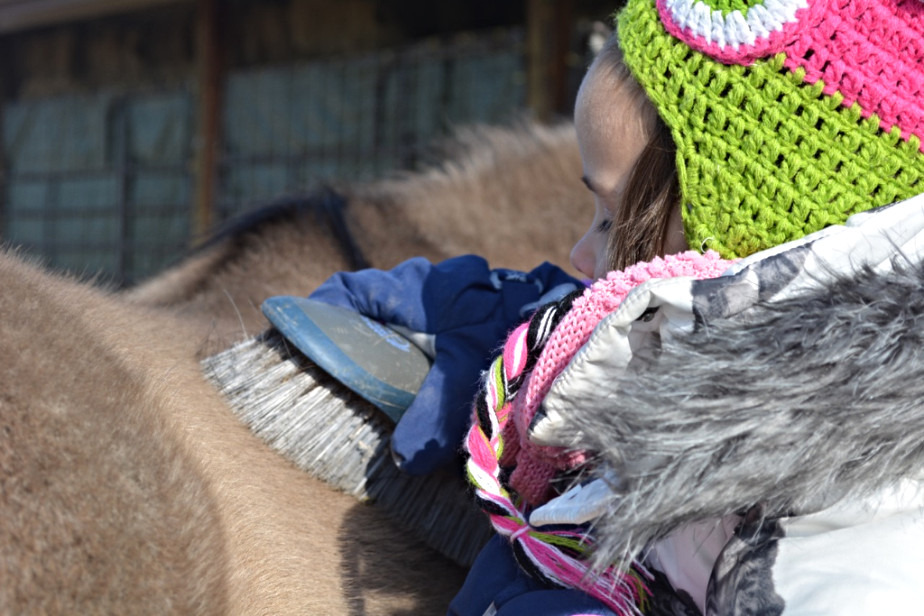 It Takes a TEAM EFFORT
Our God is endlessly creative in the ways He deposits gifts into His children. We have seen His provision flow through all types of people, with a variety of talents and favor. One of our favorite ways to enjoy His provision is through those who are gifted in networking and creatively resourcing.
For many of you, this is your favorite way of helping – building a platform of success under those you care about. So for those of you who are a genius at networking, motivating groups and organizations to donate, or digging up raw materials to build with, here is a look at our current immediate needs for your imaginative fingers to dig into.
New Arena Funding:  $7,000
Gift certificates to Lowes or Home Depot for landscape projects
Therapy Session SUPPLIES:

Easy to assemble wooden building kits: wooden bird houses, wooden toy planes
Tempera paints and sponge brushes
Foam Swim Noodles
Various sized plastic traffic cones
*All gifts are tax deductible
We value and appreciate all of you contributions and prayers!  It's a privilege to share the fruit with you and we sincerely hope you feel integral to the work and ministry that takes place here.